This is re-posted from Matt Thompson's blog.
Connected Learning wants to revolutionize the way people learn. How can Webmaker be a part of that movement?
These new resources on Connected Learning are highly recommended reading for anyone interested in the future of education and "learning by making." As Mimi Ito's accompanying post explains, the Connected Learning Research Network has tested their hypotheses with a series of case studies, design experiments and a national survey — all culminating in a new report synthesizing the latest theory and research.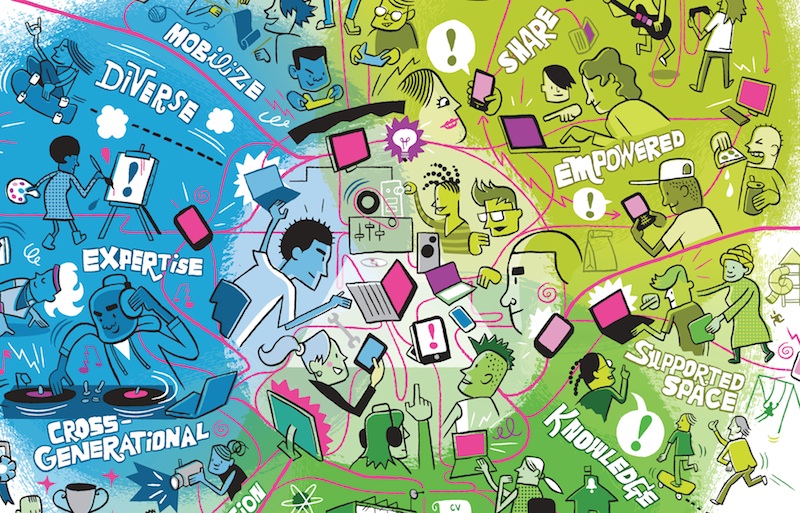 What is Connected Learning?
(paraphrasing from the report's introduction)
pursuing an interest or passion with the support of friends and caring adults
in ways that are socially embedded and oriented toward educational, economic or political opportunity
linked back to academic achievement, career success and civic engagement
What is Webmaker?
digital literacy through interest-driven making. empowering people with skills to build the web (and world) we want.
pursuing an interest or passion with the support of friends and mentors
linked back to achievement, career opportunities and civic engagement through badges
Connected Learning & Webmaker share…
Principles: Interest-powered. Peer-supported. Learning by making.
Design: Open. Production-centered. Shared purpose.
Values: Equity. Social connection. Full participation.

Webmaker as Connected Learning: 5 community stories
Here are five examples of how Webmaker's first year experimented with bringing connected learning principles into practice, told from the perspective of of real community members:
---
1) UNNATI
"i taught my parents! my brother and also few of my friends in school…..

here is  a thimble web page my father made….

My father is a coder now!!:)

My Mother too!!!"
Unnati is a 13-year-old from Erode, India. Last summer she signed up to take part in an openly networked, community-powered learning event called the  Summer Code Party.
When no one signed up for the event she wanted to organize in her town, she wrote to the Webmaker community asking for help.
Mentor-powered learning through digital making
Gauthamraj Elango, a 21-year-old volunteer Mozilla Rep, saw Unnatti's message and decided to help, using Webmaker tools and community.
Gauthamraj picked webmaking projects geared to Unnati's interests, beginning with a multimedia storytelling project called "Inanimate Alice," showing her how to remix it using Webmaker tools like Thimble and Popcorn.
My love for web started with the Inanimate Alice Project.I loved it but it wasn't a cake walk….i got stuck somewhere in the middle…and to help me Alice sent me Help!
With the help of her mentor, Unnati was quickly able to start making her own web pages and projects. These grew her confidence in digital skills like HTML and video remix, and gave her something fun to share with her family and friends.
Unnati was then able to bring her new skills into the classroom, creating a web page exhibit for social studies on the role of technology in education.
This lead to interest from her teachers and classmates. Unnati organized her own code party events at school, teaching her fellow students and later her parents.
Building social support for new interests
Unnati now identifies as a "proud webmaker," and has become an active part of new community-led projects like Gen Open (see below). This provides ongoing social support for her new interest in digital making and the web.
She also advocates taking an interest-based approach to helping others like her gain digital skills, building off popular interest in music, for example.
One day I was watching a video based on the Popcorn project… it said the project was made to attract kids who love Film making to come and learn some code…. and I thought that was a great idea…And that we could apply the same idea for people who love music…. there are millions who love music… I am a music lover myself!
---
2) ZAINAB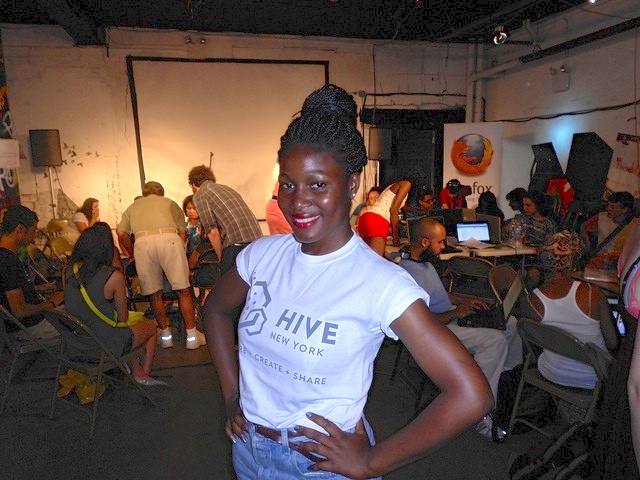 Technology isn't something I really expressed an interest in until recently. Gradually, I started getting into creating and designing technology, which led to webmaking.
Zainab is a 16-year-old high school junior in NYC, and a member of her school's "MOUSE Squad," a tech literacy program and member of the Hive NYC learning network.
Zainab participated in a series of Summer Code Parties last summer, from small  skill-shares with other Hive network teens to larger hack jams.
As part of that process, Zainab began running "train the trainer"-style events, showing other youth facilitators how to use the Webmaker "X-Ray Goggles" for workshops with middle school students after school.
Earlier this year, I was trained on how to use and teach others about X-Ray Goggles…. This was when I first started thinking about how to not only use the web, but to start making the web. From then on, I just basically started grabbing every opportunity I could to develop and gather more skills as a webmaker.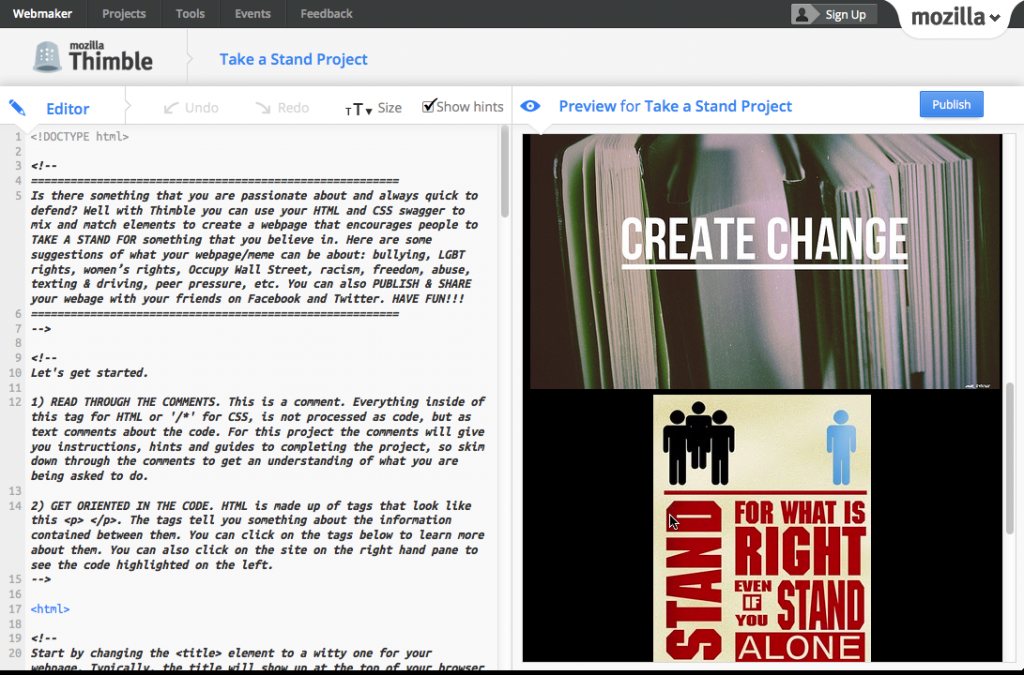 Social advocacy through webmaking
Zainab also used Webmaker's Thimble to create her own social advocacy project for other youth.
Her "Take a Stand" template makes it easy for youth to create their own web page about a social issue or cause they care about, learning digital skills as they go.
I was motivated by the documentary "Bully," and the purpose of my web project is for people to take a stand and make an impact on an issue that they really care about by creating a simple web page about it.
From mentorship to educational and career opportunities
Zainab wrote about her experiences on Huffington Post in posts titled "Don't Be A User, Be a Maker" and "On Becoming A Hacker."
Her longer-term goal: study electrical and computer engineering at MIT.
Webmaker and Hive have provided her with resources to help level up her skills, plus practical leadership experience and references that can help.
Some people might argue that it is not important to learn things like HTML and CSS, but in a world where we are being introduced to new technology every day, it's a part of your world and you don't want to be blind to what's going on in your environment.